EQUIPMENT
The current M.E. rig for use with Overlorde is seen below.
(click on image for enlargement)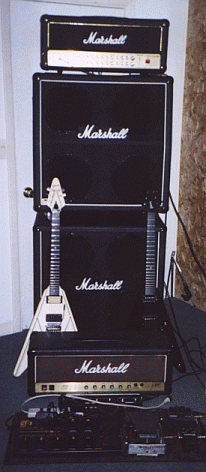 It consists of:
Gibson Flying V '83 -1983
White with pinstriping, stock Gibson Kahler Tremolo
Modifications include:
Mighty Mite pickup in rhythm position
Fender System III locking nut
Groto machine heads
String Saver saddles
Gibson Gothic Flying V - 2001
Satin black finish
Modifications include:
Gibson Kahler Tremolo
Fender System III locking nut
String Saver Saddles
Click here to see the guitar as it was going through the modification process!
Marshall JCM 800 50 watt Head 198?
Marshall ATV 150 150 watt Head 2001
Marshall 1960 A and B cabinets 2001
Pedalboard as follows:
Flying V -->
MXR Flanger --> Boss Octaver --> Morley Wah/Vol -->
Boss GT-3 (stereo out, one line to JCM 800 head connected to 1960A cabinet at 4ohm and
one line to ATV 150 connected to 1960B cabinet at 4 ohm)
Other Guitars include:
Fender Stratocaster 198?
Black
Modifications include:
Wilkinson tremolo
George Lynch "Screamin' Demon" pickup in bridge position
String Saver saddles
Gibson ES-335 1968
Tobacco Sunburst
Modifications include:
Stud Tailpiece
Takamine acoustic 1998
Other Guitar related equipment includes:
ART ECC
ART T-2
CryBaby Wah
Small Stone Phase Shifter
Recording/PA/Outboard equipment includes:
Roland VS-1680 Digital Workstation
Sony DAT recorder
Mackie 1202 VLZ Mixing board
JBL EONs EQ Reverb delay Microphones Mixing monitors and amp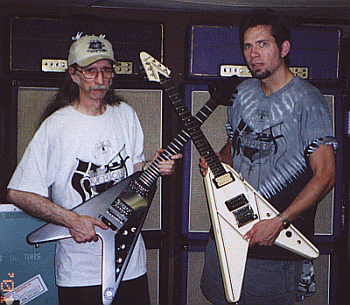 M.E.'s repairs and mods are handled by TIME ELECTRONICS. The above picture shows M.E. and TIME guru Richx Koerner on the day M.E. dropped his Gothic V off to have the Gibson Kahler installed.
If you need custom mods or repair work and are from the NJ area (or willing to ship your item to him), hook up with Father Time to see if he can service your needs!

This page is a part of www.meflyingv.com. This site is best viewed with your "Screen Area" settings at 1024 x 768.
Copyright 2003 by Mark Edwards & Armored Force Publishing. Use of materials found on this site without consent is prohibited.
Contact at me@meflyingv.com