SHOWS
UPCOMING SHOWS AND INTERVIEWS
Saturday, March 29th, 2014
Allstar Music Empire
17 Minneakoning Rd Flemington, NJ 08822 (908) 788-9800
Live music from Krown Point, Mark "M.E." Edwards & Escape From Crete

In store Chili Custom Guitars clinic by Jac Harrison

All Ages. Doors open at 12:30, first band at 1:00.

Tickets $10 @ Door

Full Details:
http://allstarmusicempire.com/ai1ec_event/chili-custom-guitar-clinic-jac-harrison/?instance_id=75
Facebook Event: https://www.facebook.com/events/1423195067926133/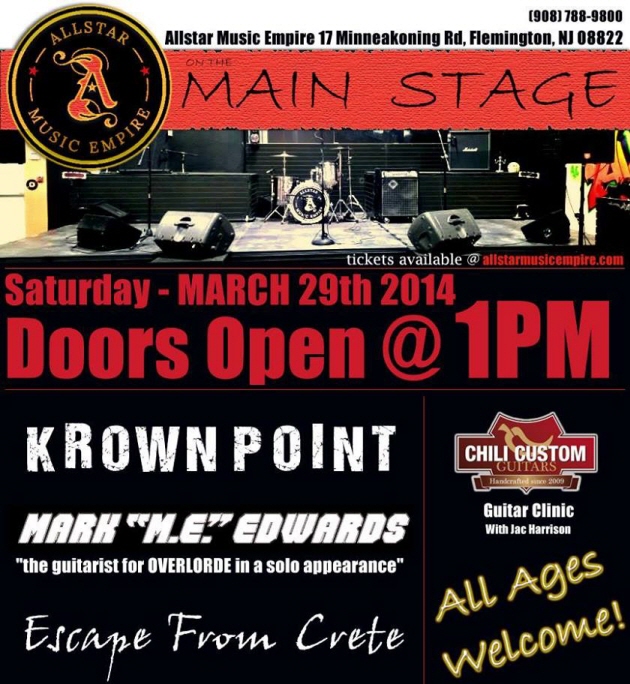 ---
PAST SHOWS

January 7, 2014
Thanks to Jon Hernandez and Jac Harrison of GEAR GUYS RADIO for airing some of M.E.'s tunes during their hour long show Tuesday, January 7th. Their guests were the folks at INDIGO AMPS and they discussed the amplifier line in detail. During the show, they worked in two Overlorde tunes and a solo instrumental.
The full hour can be streamed at any time using this link: https://myspace.com/gearguysradio/music/song/indigo-amps.mp3-94890740-105660657?play=1
The songs aired are as follows: MY DISEASE (11:00), SNOW GIANT ( 46:40), LUNCH BREAK BOOGIE (58:15)
Tune into GEAR GUYS RADIO every Tuesday night at 8:00pm.
Sunday, August 25th, 2013
(CANCELLED!) On Sunday, August 25th, 2013, guitarist Mark "M.E." Edwards will be headlining THE SUMMER BASH ROCK'N'ROLL CAR SHOW AND CONCERT in Nesconset, NY (Long Island ).

Presented by Black Wolf Entertainment and Wizard of Wax, the event will feature over 175 show cars, custom rods, hot rods, muscle cars, imports, monster trucks, 7 live bands, great food, ice cream, street vendors, crafts.

M.E.'s song SUMMER CRUISIN' is the official song of the event. You can now download a free MP3 of the song at his Reverbnation page and his other websites.

His performance begins at 3:00pm. Get more information about the show here:
February 9, 2013
Listen online today, Saturday 2/9/2013, at 3:00 pm EST as Tony Portaro (Whiplash) interviews Overlorde's Mark "M.E." Edwards.
Tony will be airing THE MASQUE OF THE RED DEATH from the Overlorde 1987 EP as part of his 1987 special.
He also airs SNOW GIANT from RETURN OF THE SNOW GIANT, M.E.'s solo tune LUNCH BREAK BOOGIE, and the unreleased Overlorde cover QUEEN OF THE REICH.
Discussion even touches on an upcoming Overlorde performance!

Tune into Tony's show, SONIC ASYLUM, at http://www.totalmetalradio.com/
NAMM 2013
January 24-27, 2013
Stop by the Sonic Core GmbH booth during NAMM 2013 as M.E. demos the Cubase VST Amp Rack emulation plug-in. He will be performing a few of his original instrumental songs, and one cover tune featuring Germany's Cinja Pausewang on vocals.
Sonic Core produces the legendary SCOPE DSP AUDIO PLATFORM DSP-powered Music and Audio Production System.
The recent Version 7 release of Cubase includes VST Amp Rack presets designed by M.E., along with presets from other guitarists including Wolf Hoffmann, Ty Tabor, Ihsahn, and Fredrik Thordendal.
Sonic Core http://sonic-core.net
Hall B Booth 5406
Schedule:
Thursday 3:30pm
Friday 4:30pm
Saturday 4:30pm
Sunday 3:30pm
http://www.namm.org/thenammshow/2013

M.E. will be performing at the beautiful outdoor courtyard of the Artmore Hotel in Atlanta, Georgia on Friday, September 16, 2011. The Artmore is the official hotel of the long running annual PROGPOWER USA power and progressive metal music festival. His performance will occur during the festival weekend, now in it's twelfth year.

----------------------------------------------------------------------------------------------------------------

DataReport Consulting LLC is proud to announce an exclusive music-filled BBQ within the beautiful open-air courtyard at none other than the renowned Artmore Hotel on Friday, September 16th. In celebration, beginning at noon, the first 100 attendees will have the opportunity to enjoy a complimentary lunch!

Guests will be treated to a special live performance by guitarist and songwriter Mark "M.E." Edwards of the veteran U.S. Power Metal band Overlorde. The performance will feature his unique and not to be missed "One Man Show" consisting of both original and cover heavy rock & metal instrumentals. He will also be joined by singers for a number of songs. Special guest vocalists confirmed to join M.E. onstage include the talented Urban breed (Pyramaze, ex-Tad Morose, ex-Bloodbound) and much-admired Paul LaPlaca (Chris Caffery Band, Ted Poley Band). Some of these songs will be original music that hasn't been performed live in 10 or 20 years.

The following video is from M.E.'s recent show opening for ZO2. Here, Paul LaPlaca comes together with M.E. to perform the FREE song "WISHING WELL"; an adaptation primarily based upon the version by the legendary Gary Moore and fatefully performed just 8 days before his passing.

http://www.youtube.com/user/MEFlyingV#p/a/u/0/L9URq40ptus

DataReport Consulting specializes in custom report design and training utilizing SAP Crystal ReportsTM www.datareportconsulting.com
RSVP at Facebook
----------------------------------------------
On Sunday, September 18th, Atlanta's PATHFINDER PROMOTIONS presents MARK "M.E." EDWARDS of Overlorde and DROPDOWN SUZI at THE LOCAL at Sidelines in Marietta, Georgia. This show is in addition to M.E.'s show at the Artmore Hotel in Midtown Atlanta during ProgPower weekend.
Vocalist Urban breed (Pyramaze, ex-Tad Morose, ex-Bloodbound) will be joining M.E. for a few songs.
It is an early show. M.E. goes on first followed by local favorites DROPDOWN SUZI.
Doors open 7:30. M.E. on at 8pm. Dropdown Suzi on at 9:30.PM. Ages 18+ Admission: $5.00
RSVP at Facebook
THE LOCAL at Sidelines
1440 Roswell Road
Marietta, GA 30062
404.579.1919
http://www.thelocalatsidelines.com/
----------------------------------------------
"M.E' will be joining Brooklyn's ZO2 on Friday. August 5th at the Canal Room in Manhattan during their "ZO2 Karaoke" night. He will be performing their song DIRTY WATER, from their critically acclaimed debut CD titled "Tuesdays and Thursdays". A night not to be missed!
Its a late show. Doors open at 11pm, show time is 11:30pm.
Facebook fans can enter to win free single tickets from PIERCING METAL by liking their Facebook page and then posting a comment asking to be entered into the ZO2 drawing. Click here to go to the Piercing Metal Facebook Page.
Further show information can be found here: http://canalroom.com/event_detail.php?id=671
----------------------------------------------
M.E. returns to Dingbatz in New Jersey with his Instrumental "One Man Show" for the makeup gig with the Iron Maiden tribute band SANCTUARY. This show was originally scheduled for January 7th but cancelled due to snow. Also performing will be
Beyond the Black the Ultimate Heavy Metal cover band

.
As many people know, Sanctuary's vocalist is Mark's Overlorde bandmate. Bobby "Leather Lungs'' Lucas. So as a special treat, Bobby will join Mark at the end of his instrumental set for some vocal covers. This will be the first time ever that Bobby has joined his Mark onstage outside of Overlorde, and the first time they have performed together since Overlorde's show in Chicago in May 2005. BE THERE FOR A "FIRST"!
Also, this will be one of Bobby's final shows with Sanctuary. So don;t miss it!
Doors open at 8pm this show is 21+
Dingbatz is located at: 620 Van Houten Avenue, Clifton, NJ
For more information, contact Dingbatz @ 973-471-1145
RSVP at Facebook.
----------------------------------------------
Wednesday March 2nd and Thursday March 3rd, 2011
M.E. will be demonstrating the new VST AMP RACK plugin for Steinberg's CUBASE 6 at Guitar Center locations in New Jersey and New York City. Visit the Steinberg website for more details.

Overlorde guitarist Mark Edwards showing off some presets that he has made with Steinberg's new VST Amp Rack found in Cubase 6. Don't miss this exciting opportunity to see and hear these new tools in action.

New Jersey - March 2, 7:00 p.m. -Guitar Center Totowa
Friday, January 28, 2011
Guitarist Mark 'M.E.' Edwards of Overlorde has been added as the opening act for the Friday, January 28th, 2011 show at Dingbatz featuring headliners ZO2. M.E. will be performing his instrumental "One Man show" and joining M.E. onstage for a few vocal tunes will be Paul LaPlaca (Chris Caffery, October Thorns, Zandelle). Paul is good friends with ZO2, who are coming off of great shows at the Whisky in L.A. and the ROCK ASYLUM at the Canal Room in Manhattan. So it promises to be a special evening.
M.E. performs at 9:00pm, followed by PYRAMADA and MAXIMUM AMERICA, with ZO2 headling and ending evening.
RSVP via Facebook
Tickets are $12.00
Door opens 8:00 pm 21 & Over show
Dingbatz 620 Van Houten Ave. Clifton NJ 07013 www.dingbatznj.com
Friday, January 7, 2011
The show with Mark 'M.E.' Edwards (of Overlorde) and Sanctuary (Iron Maiden Tribute) tonight, January 7, 2011 at Dingbatz in Clifton, NJ has been cancelled due to inclement weather. So neither band will be performing. Dingbatz is arranging for M.E to perform during the next Sanctuary show there on April 23rd. This way, M.E. and Bobby 'Leather Lungs' Lucas (the singer for both Overlorde and Sanctuary) can perform together as planned. They may also be adding M.E to a show before that date. So keep an eye and ear out!
----------------------------------------------
Saturday, October 23, 2010
M.E. is joining forces with METAL FOR A CAUSE to raise money for Children's Cancer Research. The show runs from 4pm to 9pm at the DUBLIN PUB in New Hyde Park, NY and also features comedian Ray "Gootz" Guttierez and Long Island's premiere tribute to Ozzy Osbourne, Off The Railz.

Funds raised will go towards Michael Lamothe & Fred's Team, who are running the NYC Marathon next month to raise funds for the Memorial Sloan-Kettering Cancer Center.

JUST ADDED:. A HALLOWEEN COSTUME CONTEST AT THE SHOW!

And be sure to tune in on Sunday, October 17th to www.nexusproductionsradio.com, where the special guests from 8:00pm to 10:00pm on Heavy Metal Sundays w/Billy & Pete will be Michael Lamothe of Fred's Team, Mark Edwards of Overlorde, & Lou Mavroudis of Off The Railz to promote "Metal for a Cause! In Union We Stand!" We will be live on the air! Plus Matt of Rising Forces USA is calling in.
See the flyer below and RSVP via Facebook or Myspace.
.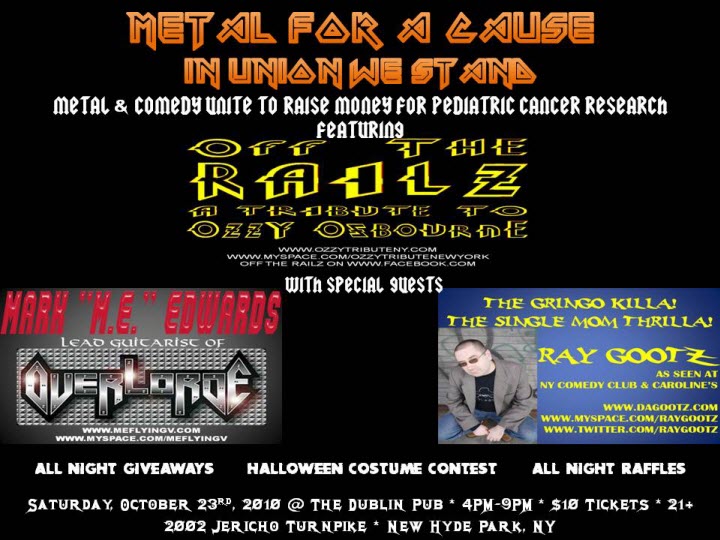 ----------------------------------------------
Wednesday, June 16th, 2010
On-air and On-Line
Overlorde guitarist Mark 'M.E.' Edwards and vocalist Bobby 'Leather Lungs' Lucas will be live on-air for an interview at WSOU 89.5FM this coming Wednesday, June 16th. The interview will be with DJ Captain Morgan during his weekly Epic and Power metal show STORMING THE RAMPARTS. The show can be heard on the radio in the NYC area and also streams online at www.wsou.net. It airs from 10:00pm to Midnight east coast time.
Besides discussing the band's history and future, they will be airing their un-released cover of the Queensryche classic QUEEN OF THE REICH.
Overlorde's song SNOW GIANT is receiving airplay on WSOU and is used as the background music for the station's 'L-Cut' promo. Feel free to request Overlorde on WSOU any time they are air rock or metal (which is basically every day except Sundays).
Playboy Magazine's May 2010 issue rated WSOU "Best College Radio Station".
----------------------------------------------
SATURDAY MARCH 26, 2010
Whitestone, NY (Queens)
Come join M.E. as he shares a night with Joe Caravella of Late Model Jesus at the PARKSIDE PUB. Joe will be performing a set of acoustic rock covers. Following that, M.E. will play an hour set of his heavy rock instrumentals with his "one man show" (M.E. on guitar accompanied by programmed drums and bass for the sound of a full band)..

Then for the last set the two will combine to perform various "souped-up" rock cover tunes from ZZ Top, Jethro Tull, and others. Joe on vocals, M.E. on electric guitar, and accompanied by programmed drums and bass.
And special guest vocalist Paul LaPlaca (October Thorns, Chris Caffery Band, Zandelle) will also join M.E. performing some 70's classic metal!


To hear how M.E.'s "One Man show" sounds live, check out this video shot in his home studio.
The venue is extremely easy to get to, just off the Cross Island Parkway near the Whitestone Bridge. If you are coming from NJ, go over the George Washington Bridge even if GPS or Mapquest take you through Staten Island or midtown Manhattan. Much faster and easier.
Start Time: Friday, March 26, 2010 at 9:00pm
End Time: Saturday, March 27, 2010 at 1:00am
Location: Parkside Pub
Street: 24-14 149th Street
City/Town: Whitestone, NY 11357
(This show replaces the previously announced show on March 20th at the THISTLE & SHAMROCK)
Cover Charge: FREE
RSVP and share on Facebook
Click to view FLYER
Overlorde guitarist Mark 'M.E.' Edwards performing in Connecticut as guest of SANCTUARY
Overlorde guitarist Mark 'M.E.' Edwards will be performing a set of his heavy rock instrumentals this Saturday, November 28, 2009. He will be opening for the tri-state area's ultimate Iron Maiden tribute band, SANCTUARY. Sanctuary features Mark's Overlorde band mate Bobby "Leather Lungs" Lucas on vocals (ex- Seven Witches, Exhibition), and Jimmy Peruta (ex-Exhibition, Eternity X) as well.
The show is at COOKS CAFE in Naugatuck, CT. M.E.'s set begins 10:00pm sharp and Sanctuary begins their "Multi-Media Stage show" at 11:00.
COOK'S CAFE
203 CHURCH STREET
NAUGATUCK, CT
06770
(203) 729-3760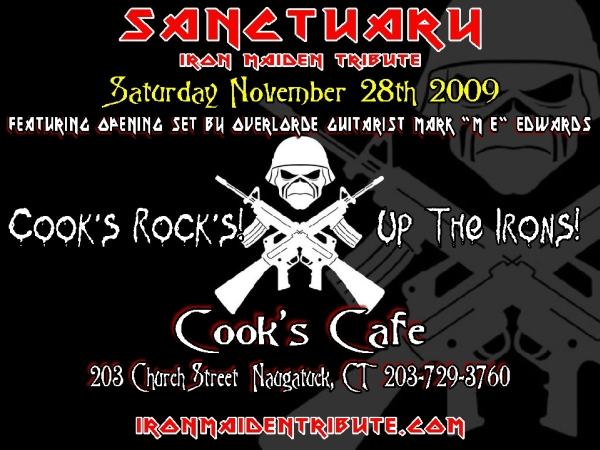 M.E. will be playing a one-hour set of his instrumentals, opening for LONG GONE DAY. Show time 10:00 at KROGHS in Sparta, NJ. A presentation of REBEL MUSIC.
www.kroghs.com www.rebelmusiclive.com
BROOKLYN METALFEST II (Overlorde)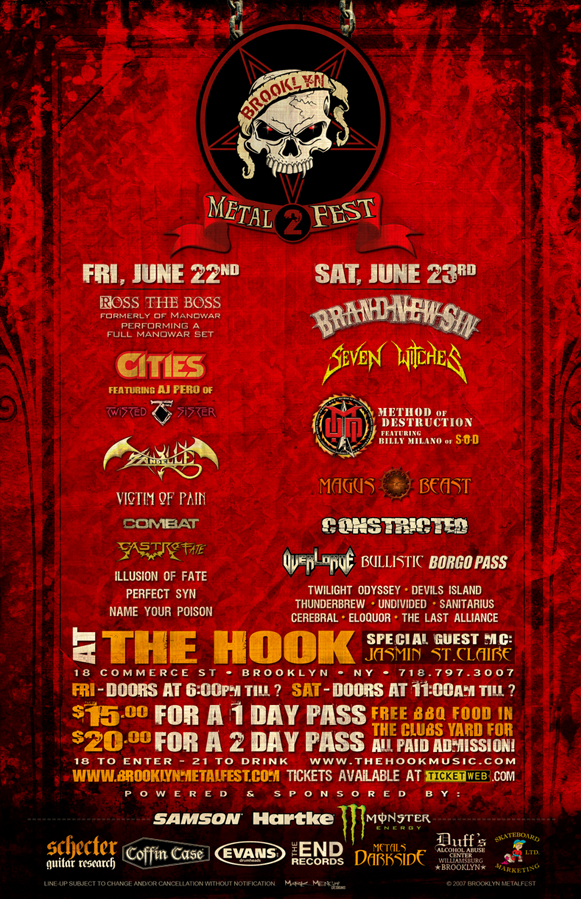 SUMMER POWER MADNESS (solo)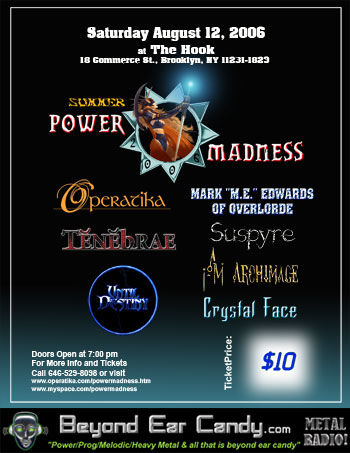 SUMMER POWER MADNESS MySpace Profile: http://www.myspace.com/powermadness
Sponsored by:
BROOKLYN METALFEST (solo)
This page is a part of www.meflyingv.com. This site is best viewed with your "Screen Area" settings at 1024 x 768.
Copyright 2003 by Mark Edwards & Armored Force Publishing.
Use of materials found on this site without consent is prohibited. Contact at me@meflyingv.com